Deborah Weir, PhD
National Certified Counselor
Florida Licensed Mental Health Counselor
North Carolina Licensed Professional Counselor
Board Certified Hypnotherapist
Board Certified Sex Therapist
Distance Credentialed Counselor
For over 20 years, Deb Weir has dedicated her life to helping others because of her strong compassionate side. She attends seminars and consults experts to stay up-to-date, especially in the areas of relationships, depression, anxiety, stress, women's issues, LBGT, transgender, weight control, chronic illness, and anything that can be dealt with in a brief, solution-oriented approach. Her fees are affordable, as she uses a sliding scale. Below, Deb Weir writes about her work as a counselor for individuals and couples.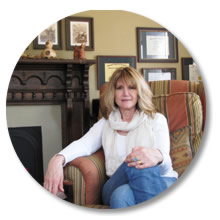 Introduction
In my early career in the medical field, I worked as a "baby therapist". My clients were tiny humans with developmental delays. The parents who brought the babies to the appointments were typically stressed and traumatized because their child was struggling. To teach these parents the prescribed infant stimulation program, I had to find ways to help them deal with their stress. After years of insecurely "winging it" from common sense, I finally delvedinto formal counselor training, completing an M.A. in Counselor Ed. In 1993 when I was 39 years old. That revealed my true "calling" and passion for mental health.
Those four years of working full-time and attending night classes (1989-1993) were intense and significant. During that time, I switched my field of work from pediatric developmental healthcare to an unfamiliar and exciting field of psychiatric and mental health settings, one that I felt comfortable in. Also, adevastating financial crisis led to resourcing myself through training in wilderness survival, at which time I became obsessed with natureand dedicated to helping save our planet from extinction. All of that was life-transforming, but the most significant element for changewas meeting my soul mate, who happened to be in the very same counseling curriculum, starting at the very same time! I entered that master's program as a child in many ways, and, upon completion, felt strong and ready to help save the world, with someone who "had my back."
My Specialties and Approach I'm a creative person who studies constantly; so that means that my interests and methods are always evolving as I become more enlightened. I have three primary counseling specialties: relationship therapy, hypnotherapy, and ecotherapy/nature-based healing. I'm most content when I can combine all three in my approach.
Relationship Therapy: Humans are social animals, and our relationships are of primary importance to our survival, our health, and the meaning of our lives. Nothing can trigger instinctual (usually negative) responses more dramatically than a problemin our significant relationships. The recent advancements in understanding neuroscience and adult attachment theory, along with the guidance of communications research available to us today, make for an exciting climate for relationship counseling.
As a therapist, I do my best to stay up-to-date on the latest trends in relationship counseling, and this helps create my own grounded, practical approach specifically designed for each couple or individual I meet with, pulling from whatever body of work I feel is appropriate. Whether the therapy plan evolves to reconnect, disengage, set boundaries, heal from wounds, accept ourselves, become independent—the list is endless—I want my clients to think of me as a wise guide through the wilderness of love and life. I want my clients to be assured that I will do my best to meet them on the path and walk withthem farther down the road to enlightenment and positive change.
I completed counseling training having found a life partner who could team up with me to provide relationship therapy to others. It was 1993, and John Gray of the Mars-Venus approach helped me understand more about the feminine-masculine dynamics that had intrigued me from Jungian and spiritual studies. David and I started a Mars & Venus Counseling Center in Tampa, FL from 1997 through 2003, working with hundreds of couples. Over the years, to round out my education,I also studied Harville Hendrix's Imagotherapy, William Glasser's Choice Theory, John Gottman's Love Lab results, Cognitive Behavior Therapy, Dialectical Behavior Therapy, among other approaches. In 2002, I became a certified PhD-level clinical sexologist to have a better understanding of the sexual components in relationships. This sex/gender education also widened my scope to knowledgeably, passionately provide counseling to the LBGTQ community.
Hypnotherapy: I began training in hypnotherapy in 1994. This type of counseling was foundational for me as it engaged the deep, symbolic lens from which I personally view life. My most influential instructor was Jon Connelly, creator of Rapid Resolution Therapy, and I have continued to perfect my techniques of engaging the subconscious mind where our habitual patterns reside. Most recently Elizabeth Michas of MindWorks Psychology has helped me understand hypnotherapy from a neuroscience basis. Her approach has reinforced my advocacy for a regular practice of meditation and other internal ways of calming our overly-stressed nervous system. I join Dr. Michas and other neuroscience leaders in using "Whole Brain" methods, foundational to all my sessions.
I like to think that my office is a place where clients are safe to sink into the deeper space inside themselves and understand how to make real change. That includes healing from the trauma of the past which infects all human lives, and finally getting clear that the past doesn't have to strongly influence the present. We can move forward with new perceptions by delving into this work.
Ecotherapy: The early 1990s was the time when nature literally exploded into my life, and I started learningwilderness survival. My nature-based education was not only empowering—it led to creating andleading formal nature retreats and programs, as well as working in the wilderness therapy field. I eventually wrote a book called Women In The Wilderness: Exploring Your Primal Nature(2010).
As our planet suffers from misuse, being an eco-therapist is a part of my environmental activism. I stay ferventlyaware that I evolved from nature, an animal living on the most beautiful planet in the solar system. I don't just hike in the woods from point A to point B; I study the natural world like a scientist, fascinated by the sacred geometry that exists there, paying attention to the natural art sculptures that exist in every form—from decaying wood formations, to twisted tree roots, to an array of colored, oddly-shaped mushrooms. Discovering the contrasting rain trails on a huge, mature tree trunk fills me with awe. And I adore sharing my love of nature with others.
My survival training has opened my eyes to the resources that nature provides. What might be a simple debris pile to some is a resource for natural shelter to me. I still have a lot to learn; this is a hugely expanded science! I perceive the natural worldas an environment for healing, de-stressing, opening energetic channels that can significantly augment any therapy plan. It feels good to know that I live in Asheville, NC among a population of people who share my enthusiasm for nature. And if my client and I can add nature into the therapy action plan, even if it's only imagined, I feel we've done our best work.
Welcome! Yes, I've come a long way from the days of my youthful work in pediatrics. I still love babies, but now I'm more equipped to work with parents and other individuals who are struggling to cope. I want to assist individualsto view life as the grand adventure that it is. Research shows that the connection of client and therapist is the most important elementfor effectiveness, so I welcome brief initial consultation to check out our chemistry, usually on the phone before we meet. I also like to keep the open, honest, diplomatic communication that I teach flowing between my clients and myself, so that we can keep adjusting the program creatively to meet your needs. I will do my best to make you comfortable, the sessions helpful and enjoyable, with a high regard for ethics. My goal is to help you reach your goals.
Thank you for getting to know me. I look forward to getting to know you.