Deborah Weir, PhD
National Certified Counselor
Florida Licensed Mental Health Counselor
North Carolina Licensed Professional Counselor
Board Certified Hypnotherapist
Board Certified Sex Therapist
Distance Credentialed Counselor
For over 20 years, Deb Weir has dedicated her life to helping others because of her strong compassionate side. She attends seminars and consults experts to stay up-to-date, especially in the areas of relationships, depression, anxiety, stress, women's issues, LBGT, transgender, weight control, chronic illness, and anything that can be dealt with in a brief, solution-oriented approach. Her fees are affordable, as she uses a sliding scale. Below, Deb Weir writes about her work as a counselor for individuals and couples.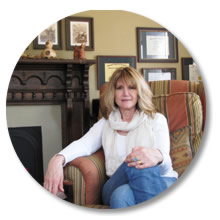 Introduction
I'm dedicated to helping individuals navigate the twists and turns of life as problems arise. I have a Masters Degree in counseling, a PhD in clinical sexology, advanced certifications, and more than 20 years of experience in mental health positions and private practice. My general focus is enhancing relationships, and I also help individuals cope with loss, trauma, career issues, and managing negative emotions. I believe that each individual has an "inner therapist" which can be accessed in problem situations, and a large part of my work involves empowering my clients to use their own inner resources for making sound decisions. The road to recovery is enhanced by consultation with a wise listener, and I commit to listening, treating each situation with deep respect, and employing energetic interventions aimed at resolution of problems with a rapid approach.
I know that problems are exhausting. In a different perspective, problems also are our best teachers and catalysts for positive change. I have a positive view of life in general, and I have staying power in helping others get the help they need. When I found counseling as a career, I knew that I'd found my passion. I have a strong need to help the world, however small my contribution may be in these times of tough challenges. Counseling individuals and couples seems to be my best path to meeting that goal. I emulate what I admire in therapists who have worked with me--someone knowledgeable, authentic, safe, comfortable office, fun, allows time for clients to fully express, and has innovative ideas to offer.
My Interests & Specialties
I truly enjoy connecting with others, and I realize how important connection is for growth. Dr. William Glasser, psychiatrist and creator of Choice Theory, teaches that connection is the key to any relationship. With conscious connection, maintained through respect and caring, we can have the influence that we otherwise might try to impose through controlling behaviors. It is out of this relationship-focused perspective that I confidently specialize in helping others with problem relationships, and we all know the pain and stress that those problems can bring.

I have experience in working with all sorts of relationships: relationships that are new, mature, troubled, sexual, of the same gender, relationships with family members, co-workers, friends, and, most important, the relationship with oneself. Through listening and connecting with my clients, there will be a healthy dynamic of growth as, together, we explore elements of your challenges. Each client is so very unique, and I honor each individual by tailoring the sessions to the needs of the client.

Most of my education has been in the area of partnered, romantic relationships. Intrigued with gender differences since my coming of age in the wake of the 70s women's movement, I was thrilled to learn about relationships through John Gray's Mars-Venus approach. Synchronously, this feminine/masculine approach for couples came onto the cultural scene in the early 90s at the same time that I was connecting with my own soul-mate, David Weir. Mars-Venus became my foundation to understanding the dynamics of love relationships. David and I blended our private counseling practices, and established a Mars-Venus Counseling Center in Tampa from 1997 until 2003. Since our mission was to present a well-rounded approach to relationship counseling, we studied and integrated other relationship theorists over the years. Presently, my counseling approach still reflects the Mars-Venus wisdom, and also offers perspectives from Dr. Glasser's Choice Theory, John Gottman's research, Harville Hendrix's Imagotherapy, David Burn's cognitive-behavioral approach, as well as sex therapy studies.

Realizing the importance of sexuality in romantic relationships, I studied for one year obtaining a certification in sex therapy in 2000. For another two years, I finished a PhD through the American Academy of Clinical Sexologists (Orlando, FL) in late 2002. My doctoral dissertation involved exploring contemporary notions of femininity and masculinity, and it helped inform my present specialty in the ever-evolving area of gender identity issues. In addition, I help clients deal with sexual mechanics, sexual desire discrepancy, sexual fears and trauma, sexual orientation, and general sexual health.

As a symbolic thinker, I tend to pay attention to and explore subconscious processes that impact the overall counseling process. I have a certification in hypnotherapy, and I utilize elements of hypnosis and neuro-linguistic programming when it fits into the plan for reaching my client's goals. Meditation and self-hypnosis have been strong tools in my own personal growth, and I enjoy showing clients how connecting with inner resources can positively change one's life.

My interests are broad, and I have studied many approaches. My previous background in rehabilitative and psychiatric occupational therapy provides me an understanding of neurological problems, such as adult ADHD, adult autism/Asperger's disorders, head injury, and cognitive decline. I pull from years of designing rehabilitative treatment plans for clients with all sorts of brain disorders. This is one reason that I also embrace and incorporate neuroscience into my approaches, including working with addictions of all types. I also have a grasp of many medical diseases, having worked in the medical field for years, and enjoy helping clients with body/mind approaches to health and wellness.
The Nature of Therapy
I've long been an advocate of nature as a healing medium. My nature-connection has led me to adventures, nature trainings, leading nature retreats, working in wilderness therapy, and finally writing a book called Women In The Wilderness: Exploring Your Primal Nature. I will do my best to make you comfortable, your sessions helpful and enjoyable, and keep a high regard for authenticity and ethics. You can also review my counseling page of this website for specific information on my services and methods. Thank you for getting to know me, and I look forward to getting to know you. I welcome any specific questions prior to our in-person meeting.
Professional Affiliations:
- Florida Licensed Mental Health Counselor #MH 4055
- North Carolina Licensed Professional Counselor, #7547
- Board Certified Diplomate: American Board of Sexology
- Board Certified Diplomate: National Board for Certified Clinical Hypnotherapists
- Board Certified: National Board for Certified Counselors
- American Mental Health Counselors Association
- Florida Mental Health Counselors Association
- Board Certified Distance Counselor: Center for Credentialing and Education, Inc. #DCC 00258
- Certified Mars & Venus Relationship Counselor 1997-2003